Sarah Braker, communications manager

Simon (left) and his brother at the PeopleForBikes office
In August, Simon Haug, an 11-year-old who lives in North Dakota, was visiting Boulder, Colorado with his family. Among the many sights he hoped to see was a slightly odd request: The PeopleForBikes office. If you know Simon though, it's not such a shock. Simon and his family made it to the office, which is how we discovered that he's more than just a fan – he's a budding bicycle advocate.
Last year Simon was given an assignment in school to write a persuasive essay. The subject he chose was why his friends and classmates should join PeopleForBikes. This choice was a relief to his father Jonathan. "We bike so much and as a parent you worry your child will hate what you do," Jonathan says, "so we were happy he felt passionately enough to write this paper."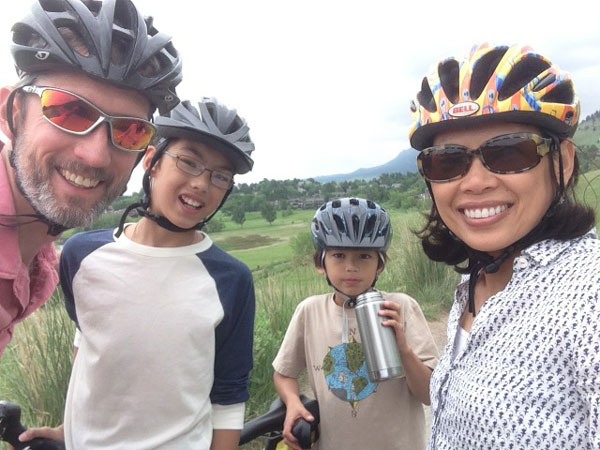 Simon, now 12 and in the sixth grade, first heard about PeopleForBikes from his parents when he was seven or eight years old, so from a young age he has understood why it's important to be a vocal proponent of bicycling.
He wrote his essay about PeopleForBikes because he wanted to share that knowledge with his friends. "I know lots of kids who ride bikes to school but they don't realize how important it is," Simon explains, "If you ride your bike it is fun, it is healthy for you, it gives you exercise, and you don't pollute the air."
In his essay, Simon explains that it doesn't matter why you ride, as long as you do it. "Whether you bike to commute, bike to exercise, bike for awareness, or just plain old fun, you are still riding," he writes, "When you sign, you say you believe cycling should be safer."
Simon got an A on his paper and he's back at it, collecting signatures of classmates and teachers for PeopleForBikes. If this is the future of bike advocacy, we're all going to be in good hands.