Mitch Marrison, marketing coordinator
To many people, bike shops exist to do repairs and sell bicycles and components to customers. Shops can also serve another equally important purpose: as a hub for advocacy within their community. Through support of infrastructure and other bike-friendly policies, retailers help make bike riding better in their communities. For an example, look no further than The Bike Rack, located in Omaha and Lincoln, Nebraska, whose annual advocacy block party helps show customers their individual potential to improve riding in the Cornhusker State.

Loading in for the party
Katie McFarland, sales manager at the Omaha location, originally crafted the idea for the block party. "We launched a ladies development program to invite women into the store. Our goal was to create a comfortable environment that supports all women who want to learn about cycling, events, advocacy in the community and what's available on the gear side of the bike world" said Katie. "As the program grew, the staff realized that they needed something more encompassing on the advocacy end of the spectrum. So we asked ourselves, 'how can we invite the community together in a comfortable environment to talk, connect and bring bicycling issues to the forefront?'"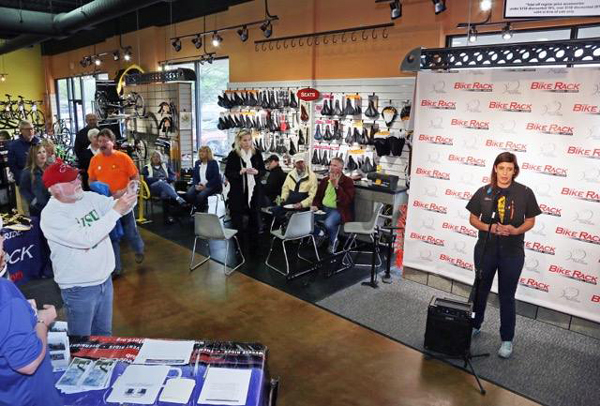 Katie McFarland, sales manager at the Bike Rack and creator of the event, addresses the crowd
The advocacy block party was born. At this year's event, burgers were grilled, drinks were served and in total, 15 groups and clubs came to talk to attendees about how they're making bicycling better in Omaha. In addition, councilmembers came to speak about their efforts to work with local groups, like Omaha Bikes, to solve issues that riders face daily. The area bike-sharing system (Heartland BCycle), fundraising rides (Wear Yellow Ride), and the Omaha Police and Fire Departments were also there to provide examples of how bike riding is already a huge part of the city's culture.

Lining up at the grill
The Bike Rack is still focused on giving customers the best experience possible. Of course that means affordable and efficient repairs and quality bikes for sale. It also means serving as a gathering place for everyone who has a stake in better bike riding, and using their influence to make real change.
A big thanks to the staff of The Bike Rack for their continued support of PeopleForBikes!