Sarah Braker, senior communications manager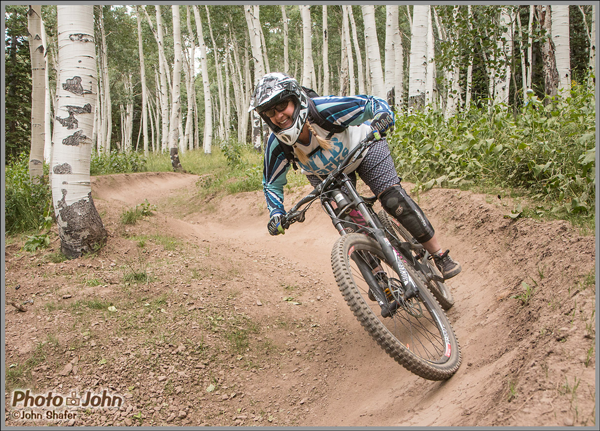 MTBparks.com founder Michelle Good sampling a new flow trail built by Gravity Logic at Deer Valley Resort, UT. (Photo Credit: Photo John)
Twelve years ago, Michelle Good decided to travel from her hometown in Jackson, Wyoming to Silverton, Colorado. Along the way, she had a simple goal: to visit all the ski resorts that offered chair lift-access mountain biking. She had a few tips from friends and had heard some rumors, but her access to this kind of riding turned out to be sporadic and unreliable. From this frustration, she launched MTBparks.com.
"I started the site about five years ago as a way to connect riders to the growing number of resorts offering lift-access biking," Good explains. "Since then, it has evolved into a mission to support the resorts and as a resource to riders who don't feel comfortable or confident going on a backcountry adventure."
Good says that resorts are good at growing skiers and that they're starting to get better at growing mountain bikers. "They're building green trails to compliment the black trails and offering learn to ride programs," she says. Now you can bring the entire family to one location to ride different terrain and still have the safety net of being in a resort where there's patrol and the trails are maintained. Good explains that with more resorts offering lift-access biking, "you don't have to make the decision between family day and biking day." At a resort, there's something for everyone.
Each year, MTBparks.com surveys riders about their favorite resorts. This year's survey is open until April 5 and will award best-of status to the top five ski resorts by region. ?The Best Bike Parks Survey came out of trying to tap into the riders to help figure out which resorts are doing a great job,? Good says. "We ask 20 questions?about flow trails, technical trails, variety of terrain and learn to ride programs. We've also added an element this year to vote for shuttle-served destinations." Results will be released by the end of April.
Good says that her motivation comes from the fact that so many riders don't know how many ski resorts offer lift-access biking. "There's nothing better than a day in the mountains riding bikes with family and friends," she says. "As more resorts develop their summer operations, we're excited to see that we're inspiring people to take road trips with their bikes."