Michael Andersen, Green Lane Project staff writer

New protected bike lanes are in green, conventional bike lanes in red, bike boulevards in yellow and undetermined segments in pink. Image from the draft protected bikeway update to Minneapolis's bike master plan.
Minneapolis is getting well-earned praise from around the world this week for drafting one of the boldest short-term bike proposals in the country: 30 or more miles of newly protected bikeways as soon as 2020.
#Minneapolis plans big push for protected bike lanes in city core w/ 30mi (48km) to be added by 2020 http://t.co/fRkuxxjWoK via @StarTribune

? Darren Davis (@DarrenDavis10) April 22, 2015
#Minneapolis literally making inroads in biking: the city's plan for 30 miles of protected bike lanes http://t.co/u28x2YWsyu via @vita_mn

? Mayors Innovation (@MayorInnovation) April 22, 2015
Yet again, MPLS killing it "Minneapolis Sets to Build 30 Miles of Protected Bike Lanes By 2020" http://t.co/G2da6D5KA4 via @StreetsblogUSA

? Joshua Redman (@JoshuaRedman) April 22, 2015
Anyone in Minneapolis hiring? http://t.co/fbUn0HMXp1

? Matt Hayes (@naturboy20) April 23, 2015
It's a mark of success for the Twin Cities' remarkable Bikeways for Everyone campaign, which is staffed by the local bike advocacy group, gets core funding from Blue Cross and Blue Shield of Minnesota, and keeps a laser focus on serving the bike users of tomorrow rather than just the ones of today.
Among the since widely imitated tricks pioneered by Bikeways for Everyone: demoing a simple protected bike lane at an open streets event … and then collecting the signature of every smiling person who used it.
But as several sharp-eyed folks have pointed out, the most progressive thing about Minneapolis' proposal, which would actually be an update to its existing bike plan, might not be that it's calling for protected bike lanes. It's that it's not calling for additional investment in what some biking experts have been referring to as "1990s technology": painted bike lanes.
About 80 percent of the recommended protected bikeway projects aren't actually new bike lanes. They're mostly upgrades that add vertical separators? posts, curbs, planters, parked cars and so on — to the city's existing conventional bike lanes.
Painted bike lanes are far better to bike in than nothing, and Minneapolis's master bike plan will still call for installing many more of them. But about 50 years after painted bike lanes came to the United States, there's no arguing with the numbers. White stripes just aren't comfortable enough to make bike transportation relevant to more than a sliver of the population.
Justifying real investment in biking requires building facilities most people will use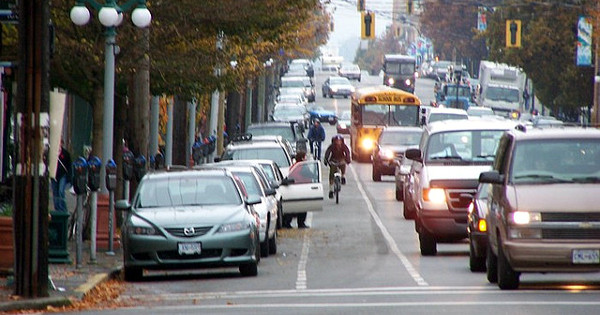 Photo: Mike Luton.
That's the hard fact called out last year by Los Angeles Times columnist Steve Lopez, who said his city should be aiming to have far more than 1 in 20 Angelenos commuting by bike.
"Five percent isn't a big enough target, and the bicycle plan isn't grand enough," Lopez wrote at the time. "We need more than painted white lines on the road and the rare buffer. … We need fully protected bikeways, so people of all ages can go for a ride without fear of getting hit by a bus."
Painted lanes have a place. But when city leaders make the case that genuinely valuable resources like on-street auto parking should be swapped out, they should try to offer something in return that's useful to more than a handful of their constituents. That's what protected lanes do — and that's what Minneapolis' leaders just did.
The Green Lane Project is a PeopleForBikes program that helps U.S. cities build better bike lanes to create low-stress streets. You can follow us on LinkedIn, Twitter or Facebook or sign up for our weekly news digest about protected bike lanes. Story tip? Write michael@peopleforbikes.org.
We're part of PeopleForBikes. Follow the broader story of bicycling on Facebook and Twitter too.