Mitch Marrison, retail program coordinator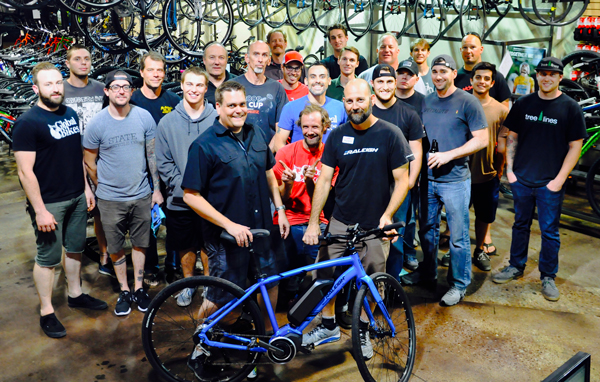 In almost any town or city, bike shops are the hubs of the bicycling community. They are important to PeopleForBikes too: we have more than 1,000 retailer members bringing new riders into the movement and collecting donations to help fund our Community Grants program. Each month we showcase one of our retailer members who is going above and beyond to help improve bicycling in their own community. Last month we turned our blog over to our friends at Cycleworks in Georgia. This month, we spoke with Brandee Lepak of Global Bikes in Arizona about how they're getting more kids on mountain bikes and how their in-store clinics help bring more people through their doors.
PFB: Tell us about the history of Global Bikes
Global Bikes was founded in 2001 by Alan Lepak. Working in a bike shop was one of Alan's first jobs in high school where he not only developed a passion for mountain biking, but also for the business of bicycle retail. When he moved to Arizona after college, he naturally gravitated to the bicycle industry and became a manager of a local shop. Just shy of his 25th birthday, Alan resigned from his management position, put his business plan into play and from this, Global Bikes was born. From day one, the vision of Global Bikes was to provide sales and service for the family. Over the years, we have grown to four locations and one of the largest bicycle retail stores in the state of Arizona, but we have never lost our focus of providing quality cycling products and services for the whole family.

Global Bikes co-owners Alan and Brandee Lepak
What do the shops look like today? Does each shop cater to different types of riders?
Global Bikes now has four locations in the Phoenix metro area. We are a thriving business that is heavily engaged in our communities. Our shops welcome hundreds of new riders monthly through the support of our various rides and clinic offerings.  We truly believe in helping people succeed with their cycling goals. Global Bikes works hard to create a consistent shopping experience at all of our locations while taking into account special focuses such as BMX, road riding and mountain biking, depending on the area.
What does bicycling look like in the communities around the stores? How has Global Bikes helped foster bicycling in these areas?
Cycling in Arizona is really incredible. The weather in Arizona could not be more accommodating to outdoor enthusiasts, except for maybe a few really hot months in the summer, but even then, Arizonians are early to rise to beat the heat and equipped with lights to enjoy the cooler temperatures of the night.
Beyond the great weather, the cycling community is truly amazing in Arizona. Everyone here really steps up to the plate when volunteers are needed for rides, trail work and charity events. When our bicycling infrastructure needs to be improved, community action groups form quickly to work with our elected officials to make it happen.
One of our main business principles is to be actively engaged in the communities where our shops are located. Global Bikes has helped foster the love of bicycling in our communities by being involved. We serve on local boards when needed, we offer advice on safe cycling infrastructure and we support events in which our customers participate.

A group ride getting ready to leave Global Bikes
In what ways is Global Bikes involved in the local community?
We make it a point to take an active role in the community by providing support to organized rides and other local events where you can always find us changing tubes and doing complimentary on-the-spot repairs. Going beyond the neighborhood, Global Bikes is a proud sponsor of The Mountain Bike Association of Arizona, BikeMS, Tour de Cure, Tour de Mesa and a number of community bike rides and races.
Also, Global Bikes is proud to support and work in conjunction with Trips for Kids – Phoenix, a 501(c)3 nonprofit organization that helps use bicycles as a vehicle for lessons in confidence building, personal achievement, health, fitness and environmental awareness through the development of practical skills and the simple act of having fun. Trips For Kids – Phoenix provides the materials, moral support and inspiration that an individual or group needs to help disadvantaged kids discover the joy of mountain biking.
Do you have one day in the shop that stands out at the most memorable?
One of the most memorable days, for me was during a little clinic I had been working on to help bring people through our doors. I had invited a local dietician to stop by to talk about her new book focusing on processed-free living. We were expecting maybe ten people and we had prepared a small area in the store for the presenter. People just kept coming in and we were bursting at the seams, throwing bikes out the door to make room for everyone. We even borrowed unused chairs from the restaurant next door for seating. Somehow we ended up fitting over 80 people into our little shop and that was when I really realized how starved people were for good information. We have since added several clinics and bring in regular guest speakers.

The Global Bikes shop dog, with bike parts instead of fur
What do you have planned for the shops in 2015?
Global Bikes looks forward to increasing our footprint in regards to the number of shop locations and our level of community support in which provide. We have plans to further commit to our beginner ride series with an evolved course curriculum as well adding to our clinics schedule, as we believe that this type of customer engagement is the key to successful bicycle retailing. Global Bikes also looks forward to increasing the impact of our nonprofit in our community by setting an annual goal of getting 1000+ riders out on bikes.
A big thanks to Brandee and the rest of the crew at Global Bikes!
You can find the PeopleForBikes retailers near you over at our Get Local map. If your local bike shop isn't a member but should be, you can encourage them to sign up here.