We Roll Together.

AAA Mid-Atlantic supported the event. This poster doubled as an advertisement they placed in local newspapers leading up to the races.

Locals embraced the big week of racing, volunteering, spectating and sporting T-shirts with pride.

Local advocacy group BikeWalk RVA hosted a bike valet at the reception.

The Branch Museum hosted an exhibition showcasing the history of bicycling in America.

Vintage bike accessories in the exhibit.

Bike-loving brewery New Belguim?a big-time PeopleForBikes supporter?supplied beer.

Squadra, a brand created by our friends at Scarpetta, donated wine.

PeopleForBikes president Tim Blumenthal (left) and AAA Mid-Atlantic director of public & government affairs Tom Calcagni announced the "Richmond Principles," a to-be-developed set of guidelines that will improve road safety for everyone.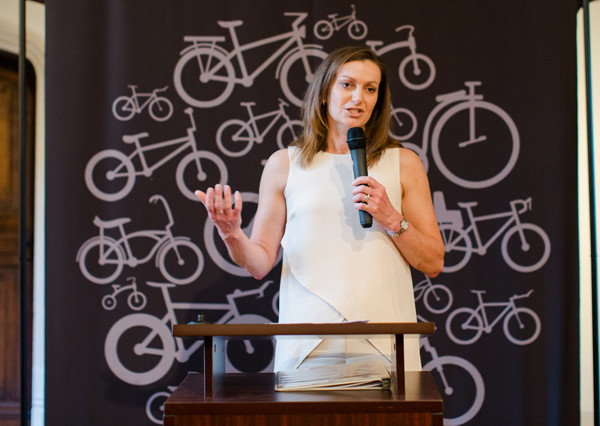 UCI vice president Tracy Gaudry announced the UCI's commitment to making bicycling better for every rider through a new initiative called UCI Bike City.

Race organizer Richmond 2015, represented by Lee Kallman on the far left, and USA Cycling, represented by Micah Rice on the far right, joined PeopleForBikes and the UCI.

Latvian pro racer Toms Skujins (right) stopped by the reception.
Thanks to everyone who joined PeopleForBikes, AAA Mid-Atlantic, the UCI, Richmond 2015, USA Cycling, the Virginia Bicycling Federation, and BikeWalk RVA for We Roll Together. Special thanks to our event sponsors, the UCI, The Branch Museum of Architecture and Design, Squadra Wines, and New Belgium Brewing.
All images except numbers 5, 6, 10, and 11 are courtesy Nicki Metcalf for The Branch.